Facilities
Chiron K9 is located in San Antonio, deep in the heart of Texas! San Antonio is the home of the Department of Defense (DoD) 341st Training Squadron Military Working Dog school and the Transport Security Administration Canine Training Center. In addition it has a very active working dog community, the beach is 2 1/2 hours drive south with Houston and Dallas easy commutes or short flights.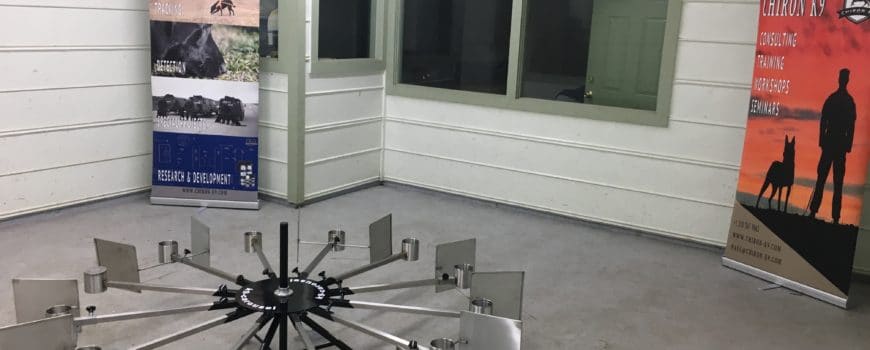 RESEARCH BASED TRAINING
With a proven background in unique and original training solutions you can be rest assured you will receive the BEST support for your needs!
Chiron K9 is a research based training, coaching and consulting firm that is the leader in the integration of proven canine science and support. Based at Global Training Academy in San Antonio, Texas, United States, we study the scientific disciplines of psychology, communication theory, cognitive psychology, and behavioral modification. We then take the repeatable and predictable principles, which science has proven, to create and enable influence out of the laboratory and academic journals and apply them to the field.
Proven background in unique projects
With a 100% successful track record in developing specific client requirement based training plans I have provided solutions to needs; not attempted to fit a current "widget" canine into a mold. Additionally strength comes from field deployment, integration and real time utilization. Just as important as the training solution is the field dependability!
Right tool for the right solution:
With hundreds of training providers in the market, Chiron K9 needed to ensure you receive exactly what you want! Therefore I decided to provide a 100% guarantee, if I take your project on then I will provide a successful solution based on the Scope of Work, or you don't pay! By doing this I am standing by my work, capability and proving you reassurance its not about the funds; its about the successful project!
WHY CHOOSE US
I train dogs because I love my job. I love the challenge of solving unique problems. There is no better feeling than providing a client a trained solution that works.
Canine Research facility
Dedicated Canine Research Facility to support client projects:
Odor Carousel – 12 arm stainless steel construction
Observation area – For data collectors, video capture and observation
70 acres – Dedicated canine training areas
Sub-Surface certification/training field – 50 pre-located pipes
Classroom –
Imprint buildings – Variety including with furniture
Vehicles– Over 30 vehicles for search training